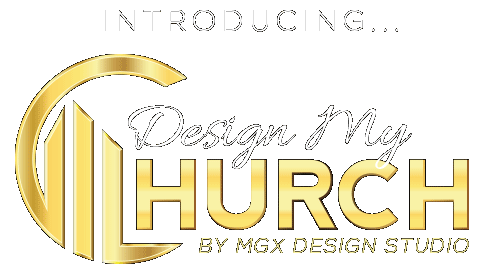 You have only one chance to make a first impression. One chance to stop visitors in their tracks and open the door to begin their connection with God, this includes your church website. Introducing Design My Church by MGX Design Studio. We bridge the gap between churches and the world wide web through dynamic church products and services.
Does your ministry have a website?

If not, MGX Design Studio is a great opportunity company for a quick and affordable way to building a high-impact website for your church or ministry. Whether you're a new church or not, your local community will be impressed at how professional your website is, and to many potential visitors, these first impressions are the most important.

Do you need more functionality in your existing website?

All of our websites are bundled with the largest set of integrated features of any website product on the market.

Are you having trouble maintaining your existing website?

Maybe you're stuck after your previous web designer is no longer available, or your volunteers are changing. Maybe it just takes too long to get changes made. Using our easy site manager, you can make the changes yourself, if need be, and you don't have to be a "techy programmer" to do it. We make a very compelling option for your church website. It just depends on your scenario. If you need to have us maintain your existing website, click here for our maintenance packages

Need a Ministry Facelift?

Our professional web developers can upgrade your existing website our web makeover program.
Access to Support: Unlimited
Get unlimited email, phone support / guidance on your site.
Number of Admins Allowed: Unlimited
Setup as many staff members as you want.
Number of Pages: Unlimited
After we create your initial pages, you can create as many additional pages and items on your website as you wish.
Software Training: Yes
We do a full walk-through of our website by phone, screencasts, video tutorials, etc.
Storage Space: 100 GB
You get up to 100GB of storage space for your documents, photos, & audio files that go on your website.
Site Backups: Nightly
We keep backups of your site, every day.
Number of Pages We Create / Transfer For You: 30
We'll create up to 30 pages of content into your new website. You also have the ability to create additional pages after your website goes live.
Forms We'll Transfer / Create For You: 3
We'll transfer or create 3 forms for you. You are then free to create more at anytime through our simple drag & drop form manager program.
Future Redesign Discounts: Up to 50%
If later on down the road you want to do a redesign with us for the new year, we offer a discount of 50% off the normal price, depending on size & scope of the project.
Social Media Designs: Yes
We'll create graphics you can use in your church presentations or on social media that will promote your new website.